I went to church again this week, and was very surprised to hear the somewhat elderly pastor make a reference to one of my all-time favorite bands -
Supertramp
. I know, the whole "all-time greatest" list thing comes from the movie
High Fidelity
in which John Cussack totally disses Supertramp, but they are still one of the greatest progressive/pop rock bands. Curiosly enough, I'm currently going through a phase where I'm gleaning a lot of deeper meaning from music, so it was perfectly suitable for there to be an application from a Supertramp song into this weekend's sermon (after all, as the Bible and Pink Floyd say, everything under the sun is in tune).
Not only was the band referenced, but he made mention of the specific song and even went so far as to read (not sing) the entire first verse and chorus: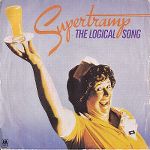 The Logical Song
...Then they sent me away
To teach me how to be sensible,
Logical, responsible, practical.
And they showed me a world
Where I could be so dependable,
Clinical, intellectual, cynical.
-There are times-
When all the world's asleep,
The questions run too deep
For such a simple man.
-Won't you please-
Please tell me what we've learned
I know it sounds absurd
Please tell me who I am.
I'm not sure if the lyrics were super applicable to the actual message, but it's a good tune regardless. Plus, this is not a pop song. "You Really Got Me" by the Kinks is a pop song, but who listens to that crap anyway. If anyone ever raises any questions regarding Supertramp's "pop" status, I recomend referring them to "
Fool's Overture
" - the last song on
Even In The Quitest Moments
. I believe the running time is over ten minutes, and there's even some background sampling from a Winston Churchill speech (We shall fight on the seas and oceans. We shall defend our honor. We shall
never
surrender!).
"History recalls, how great the Fall can be, while everyone is sleeping, the boats put out to sea."
Didn't N*Sync do a cover of that song?